Surf Taco Coastal Cuisine
Challenge
Surf Taco is a local restaurant chain serving up Cali-inspired selections by the beach. Using the freshest ingredients and bold flavors, their menu is inspired by locations all across the globe. Now, Surf Taco is taking their good food, good people, and good vibes all across America, franchising across the East Coast. From small-town taco shop to well-known "coastal cuisine" connoisseurs, they needed help expanding their digital presence to more fans, young and old alike!
Services
Creative
PPC
Web development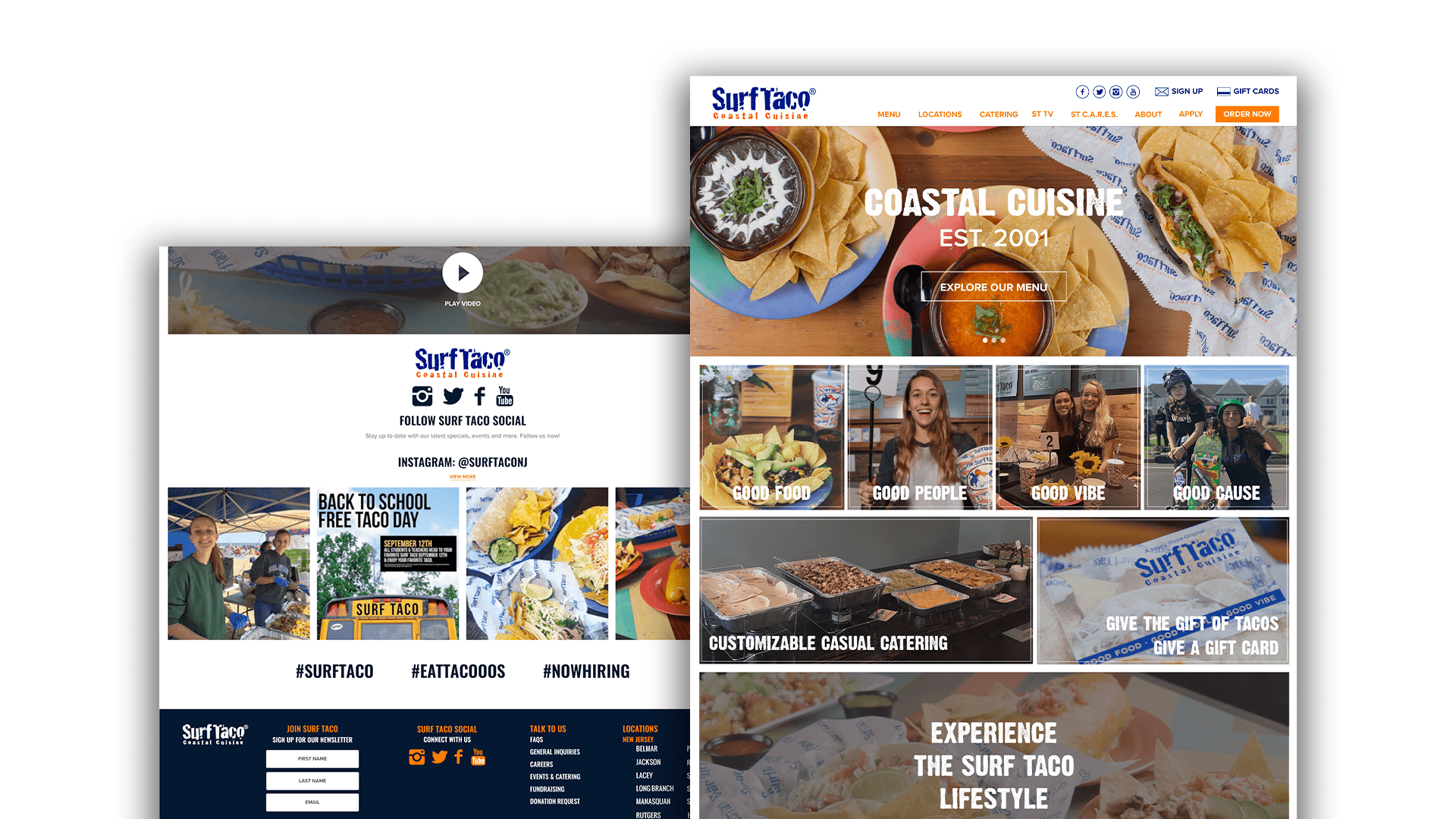 Solution
Creative
Our team outfitted Surf Taco with a brand refresh and new website that addressed some pain points of their previous digital experience. Online ordering was hidden and customers did not know it was available or how easy the process was to place an order at multiple Surf Taco locations online or on their mobile device. Wanting to highlight the ability to order online in real time, the site was designed with fluid user experience and interaction in mind.
With a lack of true brand identity and strong brand recognition as a clear problem, a strong, recognizable creative presence to establish brand identity was implemented throughout the site to go along with the brand refresh across all platforms. A new font choice and subtle brand updates allowed Surf Taco to grow their brand, position themselves in a modern light, all while keeping some elements of their branding that devoted customers have come to know and love.
PPC
Paid search campaigns were created to address a lack of data acquisition and client database. We partnered with Surf Taco on various PPC giveaway campaigns to build its customer database. Launching a multi-channel holiday taco giveaway campaign (Gift A Taco) that drove a significant amount of email sign ups and running the digital portion of the 2018 Sea Hear Now ticket giveaway promo solved this pain point.
Web development
Looking to expand their digital presence, Surf Taco came to us for digital marketing campaigns to grow their brand recognition, a brand refresh, new website design and development. By designing with a mobile-first mindset, our creative team utilized a modern and clean block-based layout to provide a seamless user experience across all devices – skillfully developed by our dev team.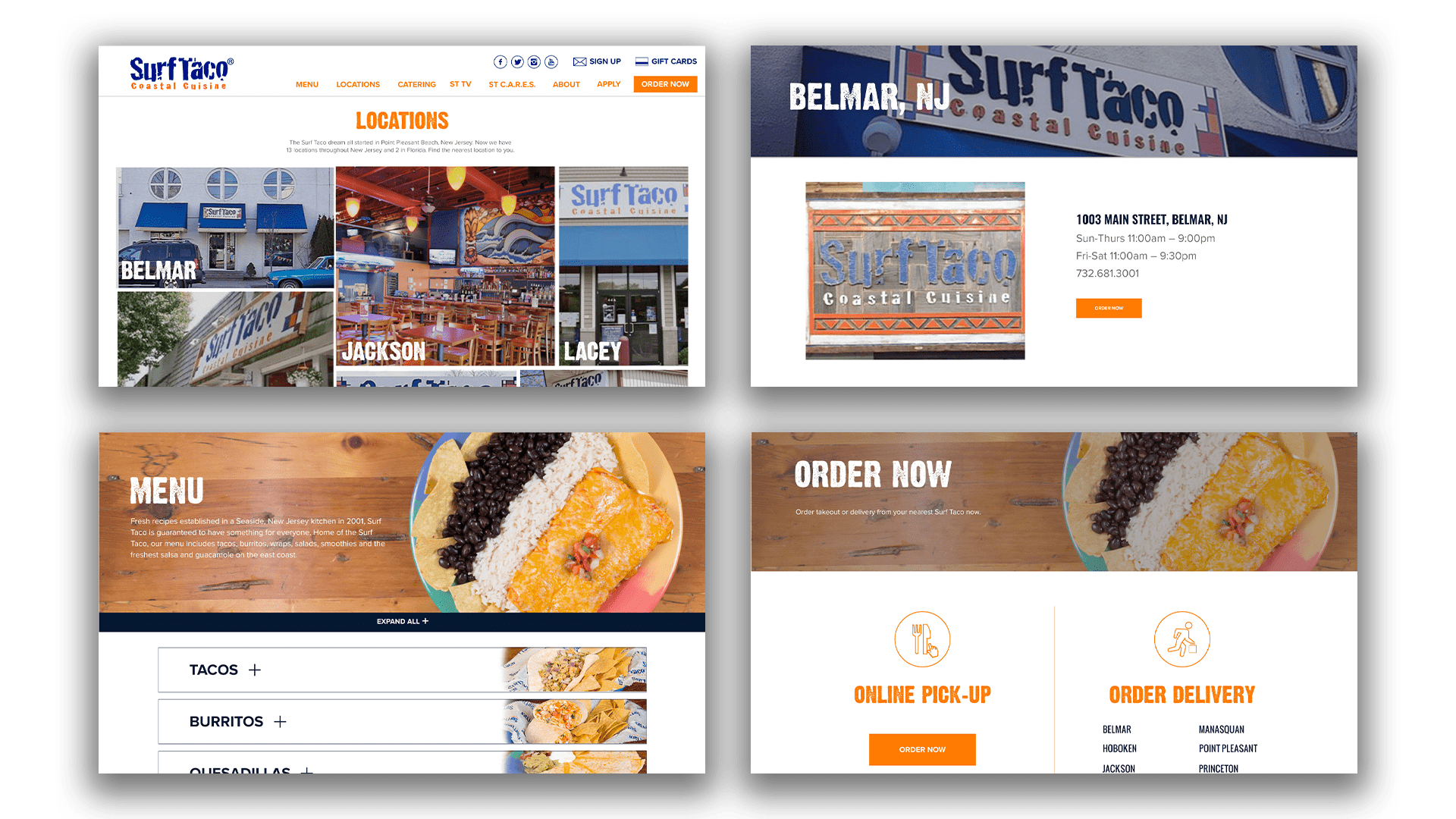 Outcomes
Increase in online and mobile ordering

44%

Facebook Ads conversion rate for Gift A Taco campaign

~ 45%

increase in email contacts in database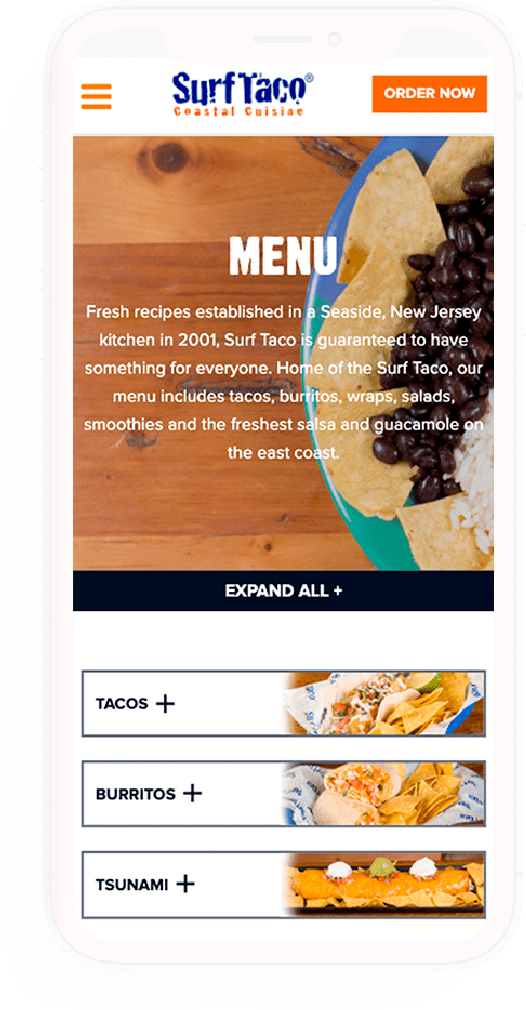 The Impact
Designed with a mobile-first mindset, the layout we crafted for the Surf Taco website used a modern and clean block-based design to provide a seamless, fluid user experience across all devices. The brand refresh allowed Surf Taco to become easily recognizable online, grabbing the attention of more potential customers across a variety of platforms. Overall, the work we did for Surf Taco ultimately helps them stand out in the competitive food industry.