Challenge
Liberty Helicopters claims that not even the sky is their limit. On a daily basis, Liberty flies tourists and locals alike over the iconic New York City skyline. Their highly-trained professional pilots allow individuals to see the city from a completely new view. When Liberty Helicopters came to us, their success stemmed directly from their brand name and no digital marketing plan was in place. Our team took the reigns and aided Liberty Helicopters in entering the digital landscape as a way to grow their business and attract more customers interested in new life experiences.
Services
Creative
PPC
SEO
Social
Web development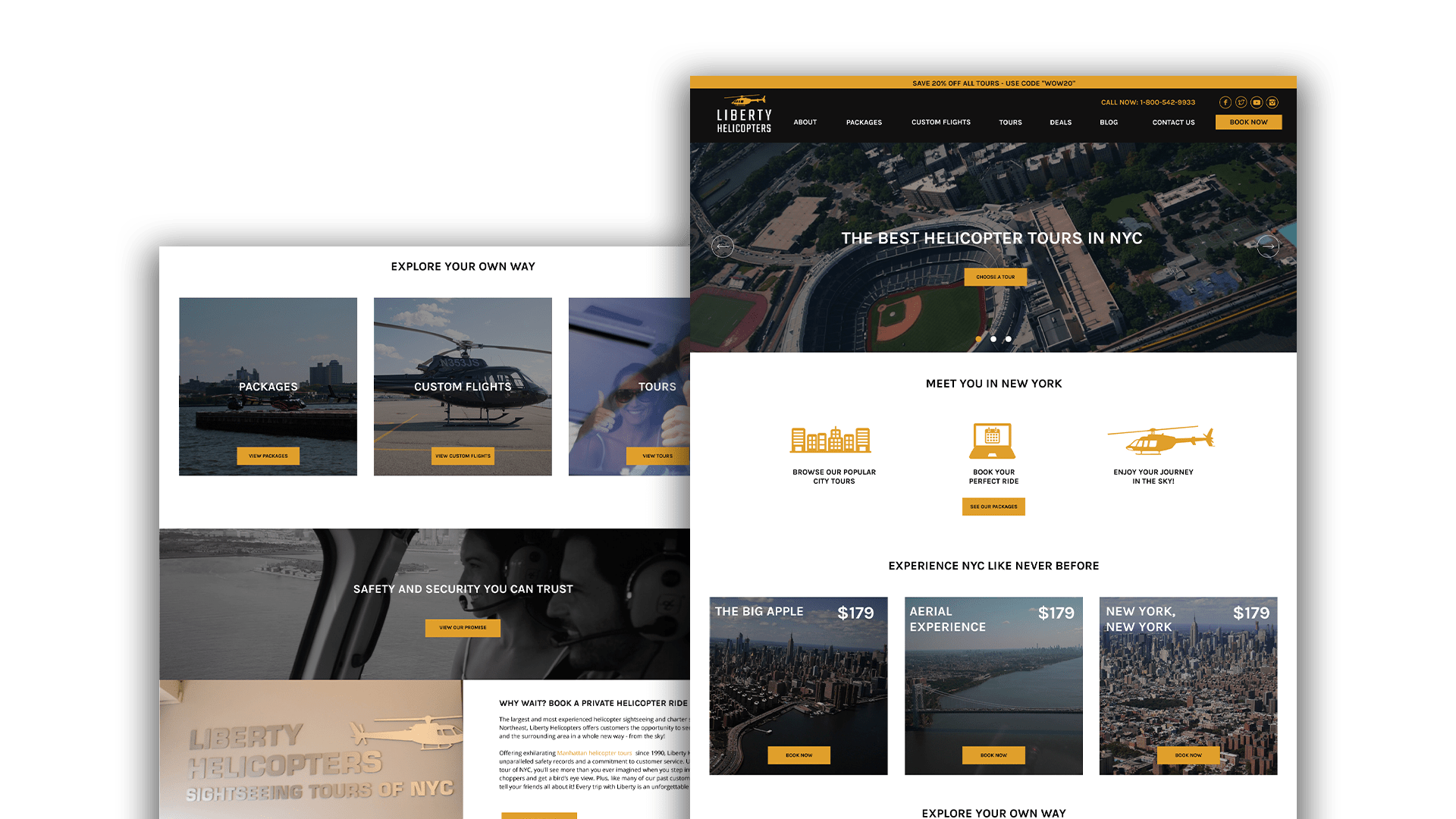 Solution
Creative
Our creative team provided Liberty Helicopters with a brand refresh, transforming their red, white, and blue identity into a classy gold and black logo that better matched their professional image Liberty wanted to project to potential customers. This brand refresh translated across all of their social media platforms and their new website, which adopted a cleaner, fresher look and high-quality photos and videos that showed off the best views of their NYC helicopter tours. Our team created a new website with an improved user experience and flow to convert users.
PPC
Our PPC team built out ads on various social platforms like Facebook and Instagram to draw in new customers for Liberty. With engaging, beautiful images of the New York skyline taken directly on Liberty flights and several special offers like 10% discounts, more and more people began to notice the company and book flights with Liberty.
SEO
To start the Liberty Helicopters project, our content team reviewed their website, helping shape and build out site content in several areas to optimize for SEO and draw in potential customers. Our content writers offered creative guidance, editing site pages for grammar and brand consistency. The team researched 20 new keywords that would improve Liberty's search engine rankings, and within eight months, all of them achieved results on pages 1 and 2 of Google search results.
Social
The brand consistency developed on the website also carried over to social media, as the team built out social media calendars that contained engaging and relevant content tailored to appeal to Liberty's target audience. The content was laid out in a clear, easy-to-follow, collaborative plan including versatile images, captions, and hashtags that work well across Facebook, Instagram, and Twitter. We also launched an influencer marketing initiative for Liberty Helicopters, researching a comprehensive list of social media/celebrity influencers who aligned with the brand's identity and reaching out to offer partnerships. Through influencers like NY Giants player George Asafo-Adjei and singer Ellie Goulding, Liberty Helicopters has gained the interest and trust of hundreds more potential customers.
Web development
The updates our web development team made for the Liberty Helicopters website were more than just aesthetic changes. Liberty also needed us to integrate a platform for customers to make flight bookings and improve overall functionality. With the changes made by our web development team, customers can easily and safely choose which tour packages they want to purchase and complete their payments online. Customers can now rely on Liberty's website for a good user experience and trust that their payment information remains safe.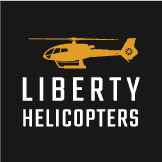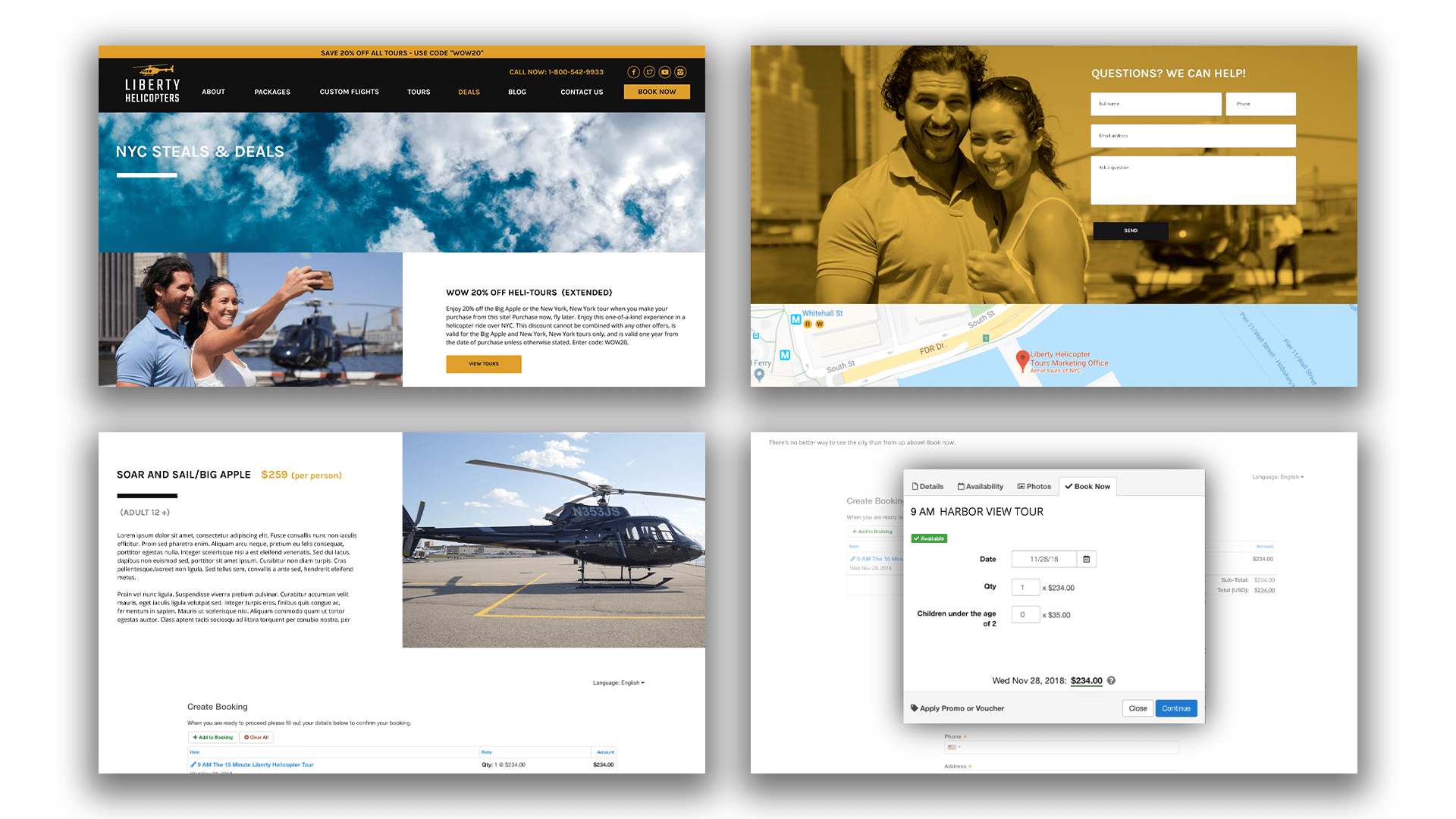 Outcomes
Facebook engagement increased by 36%
Twitter engagement increased by 229%
20 terms ranked on page 1 and 2 within 8 months of project kickoff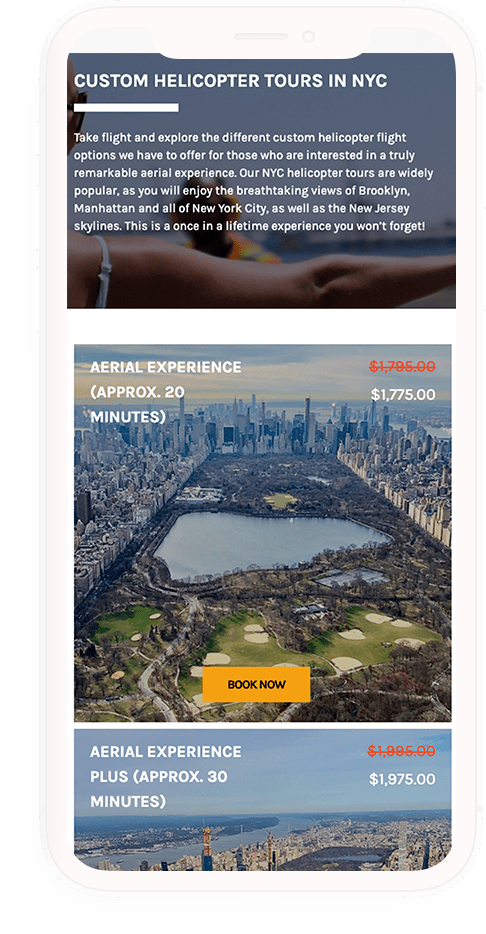 The Impact
Liberty Helicopters' stormed onto the scene with a new look and feel. More and more people continue to book memorable, sky-high adventures with the company every day. With an updated site, captivating social posts, and paid and organic traffic being sent to their site, Liberty expanded its reach and solidified its position as the top and most experienced helicopter tour company in New York.