Challenge
The Suntuity Group is dedicated to making a global difference through the use of innovative energy products and services. The problem was, they weren't sure exactly how to share their passion for the environment with the rest of the world. Their website lacked a cohesive feel, and they were struggling to maintain users' attention. They had a built-out email list, but no clue how to use it--their existing email templates looked too much like spam, and their messages to their audiences were undefined. They needed some help developing email campaigns that would encourage their customers to help them change the world.
Services
Creative
Email automation
Web development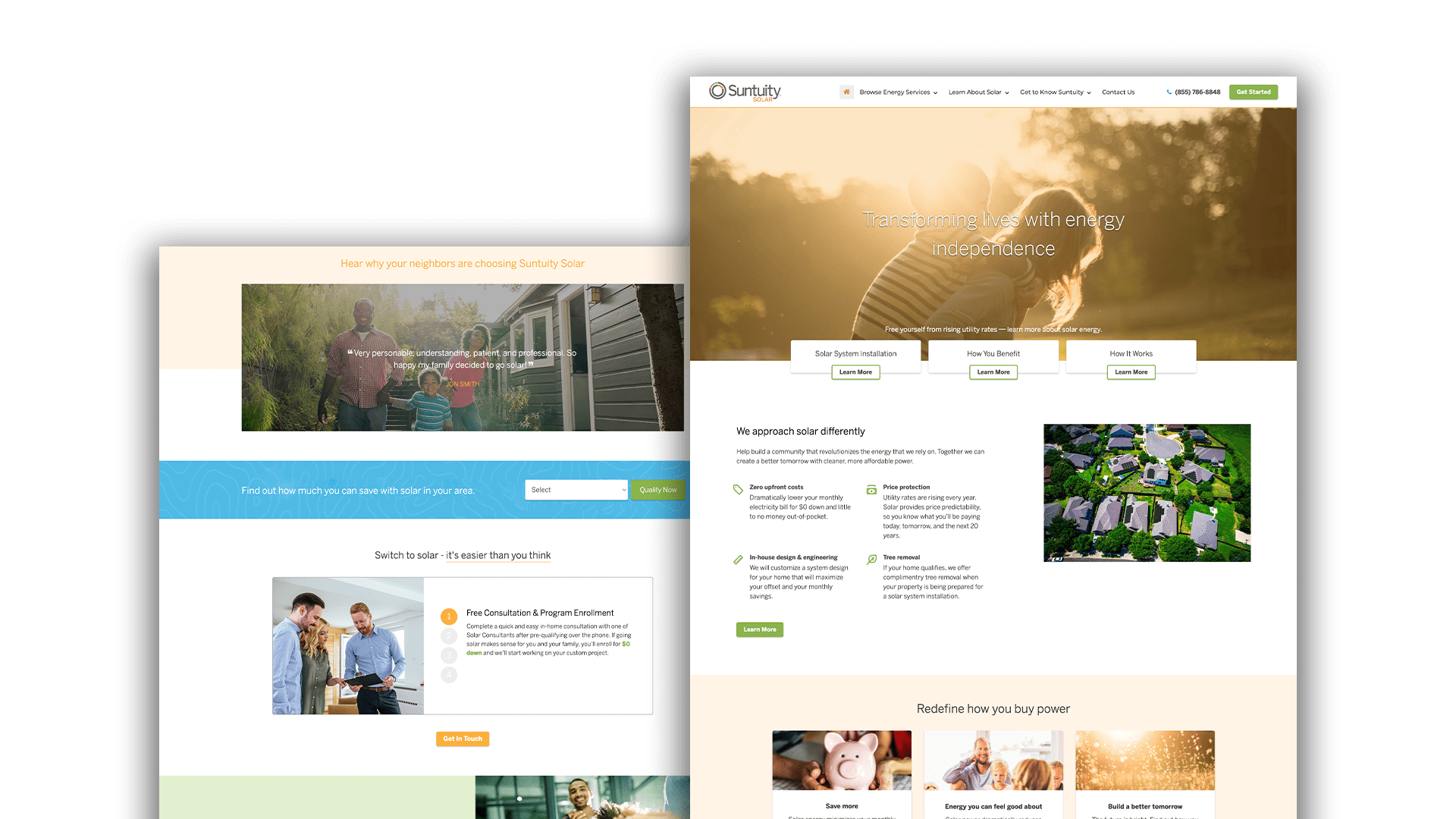 Solution
Creative/Web development
A great website showcases the best parts of your brand, so that's what our development team focused on for Suntuity. Telling a refreshed, modern story with sleek, clean visuals, the site showcased a simple user experience that was polished and efficient. At the same time, multiple interactive elements enhanced the experience. For a company that works in the constantly-developing technological world, being able to teach and explain concepts to customers is also incredibly important. Information was compiled into an engaging website in which knowledge was accessible but not overwhelming. 
Email automation
Through customized email campaigns and trigger-based email, marketing automation is fast becoming an integral part of a successful digital strategy. Marketing automation helps marketers streamline their lead generation, segmentation, lead nurturing and lead scoring, customer life cycle marketing, cross-sell and up-sell, customer retention, and marketing ROI measurement. 
We cleaned up Suntuity's email templates, matching them to their new, clean website, and made the design more consistent across all of their different types of email campaigns. We created a pop-up to help build Suntuity's email list, that was followed by an automated thank you email upon completion. The various automation workflows we developed aligned with different customer behaviors, so the email content was clear, focused, and tailored to each individual's experience with the brand.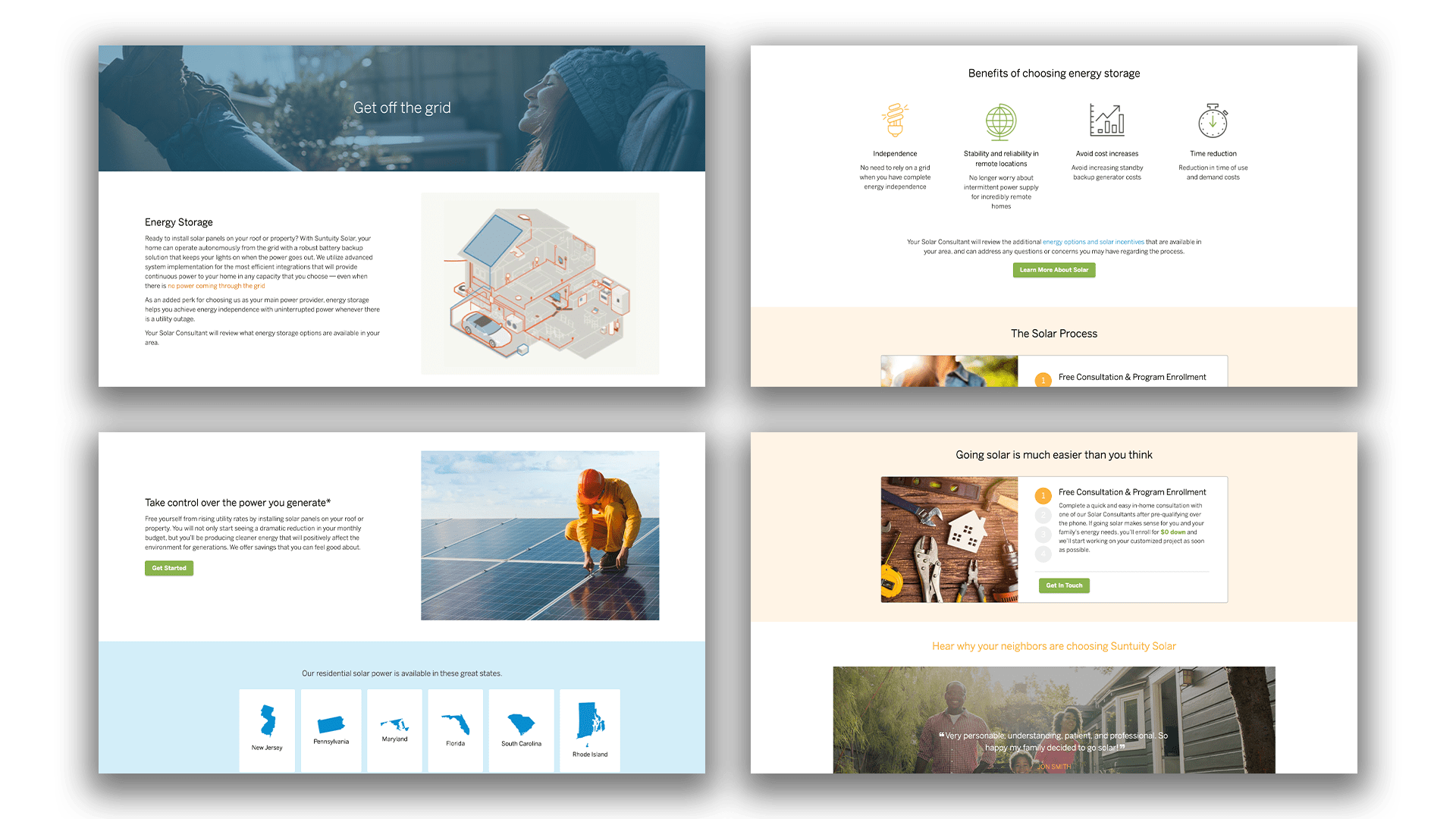 Outcomes
Designed

3 email

templates
Created

6 automation

workflows for different state locations
Gained

5 followers

a month from pop-up form
The Impact
With more purposeful email campaigns that were customized to each user's experience, Suntuity established themselves as a sophisticated brand with an admirable dedication to both protecting the environment and guiding customers through their journeys with ease. Cleaner design improved their open rates, allowing them to reach even more people with their various campaigns and putting them one step closer to their ultimate goal: changing the world.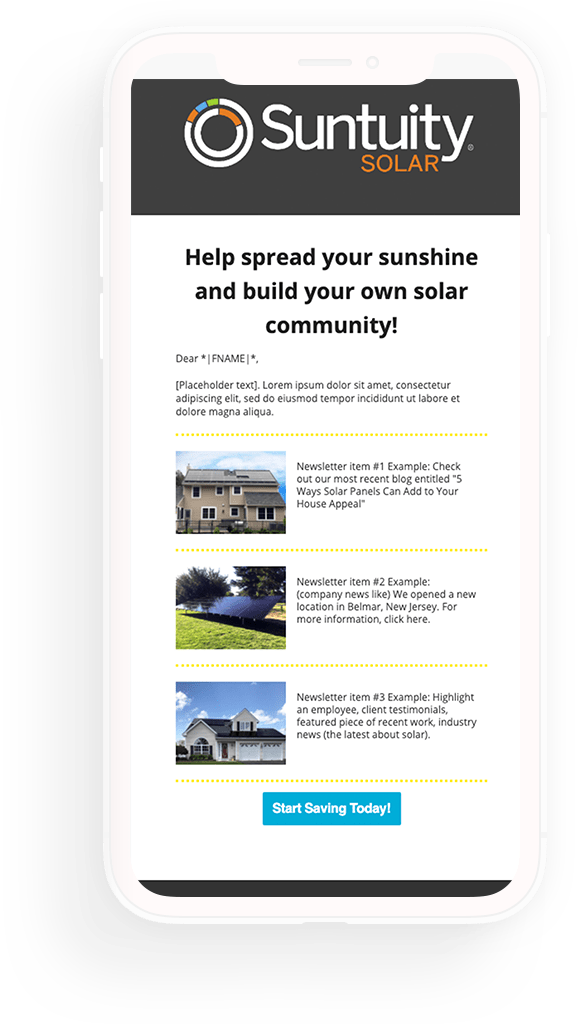 Sharing their passion for the environment with more purposeful email campaigns and an engaging website, put Suntuity one step closer to changing the world.