MFS Engineers & Surveyors
Challenge
MFS Engineers & Surveyors needed a complete brand refresh—a calculated strategy to increase visibility to their niche audiences and grow their contact list on a limited budget.

With that in mind, the Semgeeks team went to work. We began with lead generation via paid ads, custom-built landing pages with download incentives, and Facebook ads, which generated high-quality leads and targeted connections.

When a brand refresh was next on the plate, we created an updated version of the MFS brand guidelines, outlining logo usage, new brand elements that felt modern and clean, updated color usage rules, an additional accent font used for a little flair on social and email campaigns, as well as provided one cohesive booklet outlining the brand identity.

This was followed up with a redesigned and newly optimized website homepage for both their engineering and construction websites. Optimizing the homepages for conversion and calling for more clicks, the site was not only updated visually but now functioned with a purpose.

In addition to web design, we built out high-quality, versatile templates for their email campaigns, adding conversion-oriented CTAs, compelling images, and the new and improved brand style. This helped to strengthen the brand voice and customer trust through email communications, as well as gave them a consistent brand identity for each of their email campaigns ranging from onboarding to ebook downloads and even a monthly newsletter.

These actions elevated MFS's brand status while immediately boosting its numbers across the board.
Services
Creative
PPC
Web development
Solution
Creative
Our first task was to refresh the branding—including the brand guidelines and brand book—to ensure that there would be consistent messaging across all publications and media. From there, we redesigned the website homepages to improve SEO, optimize for conversions, and fit the new brand ethos. Our team ideated around and generated modular email templates that can be adapted for a number of uses, from welcome onboarding to general newsletters and beyond. These included:
CTAs to increase clicks and conversions in email campaigns
Compelling, cohesive images to drive engagement
A branding refresh to match the updated look and feel
PPC
To drive traffic to the website and help grow the client's email list, we built PPC campaigns and landing pages for both the Engineering and Construction pages. Additionally, we used Facebook lead generation ads to assist in this effort while also pushing a CTA that was further down the funnel, offering interested prospects a free consultation.
Web Development
The Semgeeks team developed brand new landing pages for Engineering and Construction using Craft CMS, a flexible, user-friendly contact management system. From a design perspective, we updated the visual components to align with the new branding and performed web monitoring and maintenance for the site.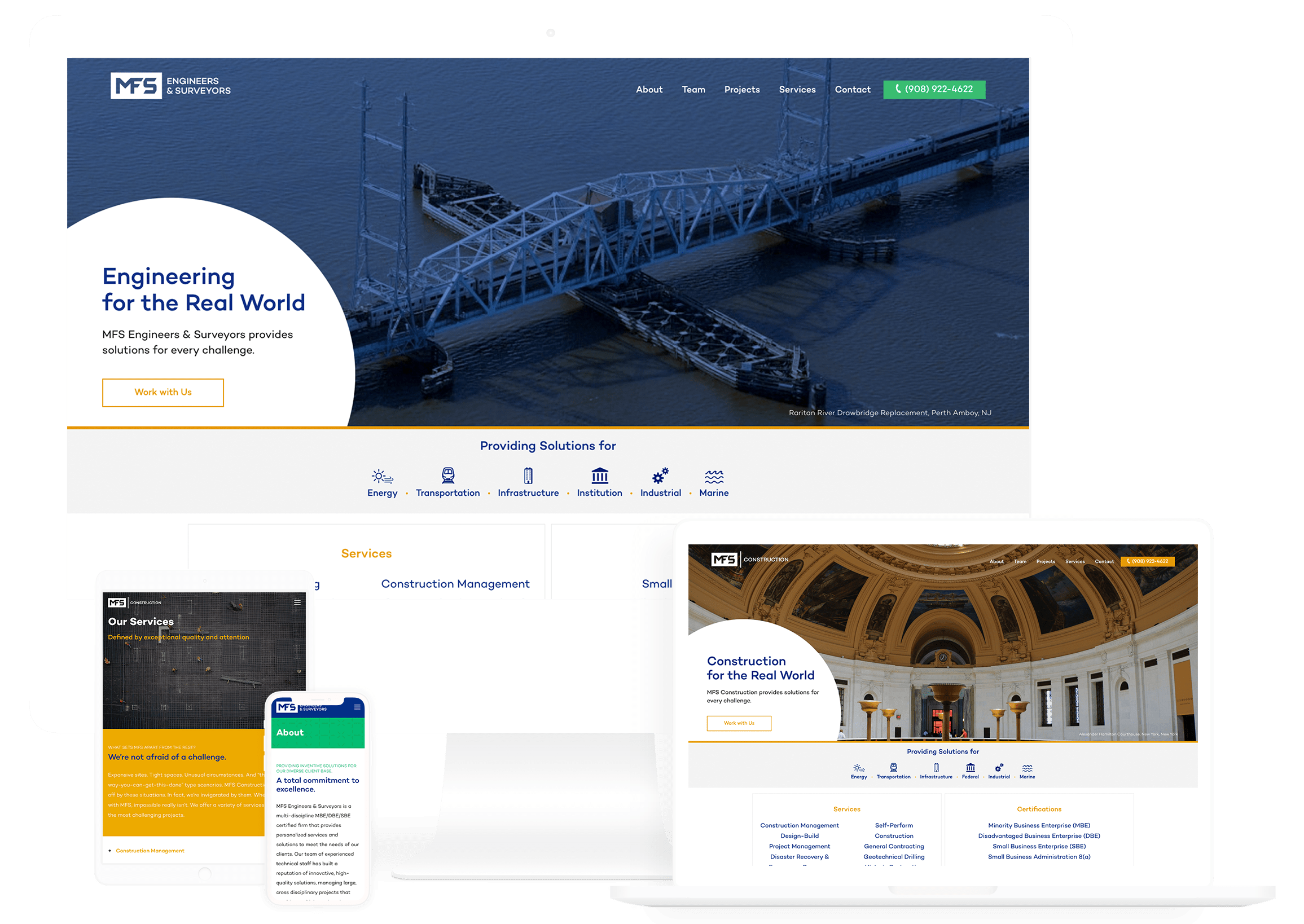 Outcomes
Generated 58 leads for less than $10 each over a two-week period with the Facebook lead campaign
Converted 4.06% of customers driven to landing page form submissions from Google
Drove more than 400 clicks to the landing pages with our Google search campaign—an overall CTR of 4.91% with one specific campaign coming in at 7.17%
The Impact
With the help of Semgeeks, MFS Engineers & Surveyors was able to modernize its look, feel, and outreach efforts. This made all the difference, resulting in increased traffic, a rapidly growing email list, and a wave of new leads coming in for free consultations.