Challenge
Engineering Tomorrow asked us to find a way to proudly display their extensive curriculum with a comprehensive hub that would house the organization's events, news, and more. Our team identified their most impressive selling points and used them to collaborate on a forward-thinking website. The goal was to attract the next generation of engineering talent with a modern, sleek look - and we delivered. We continue to support their ongoing web maintenance.
Solution
Creative
Tasked with rebranding an ambitious organization, our team drew inspiration from the unique, dynamic work done by participating students. We opted for a clean, professional front-end to display the impressive curriculum, current news, and the program's excellent results. With a powerful and impactful vision, the organization's message remains clear. To ensure the website's look came to life, we included engaging photography that was taken during the program's meetings and competitions. Bringing these candid photos into the mix allowed our team to create an authentic user-experience with a personalized, engaging experience.
Web development
It's incredibly important to engineer an easy to navigate website that is responsive and fit for all devices. Furthermore, curating a collection of videos and imagery while maintaining top site load times is where smart development comes into play. We utilized best practices and developed a dynamic site built with various integrations, including an events calendar and multiple Google docs.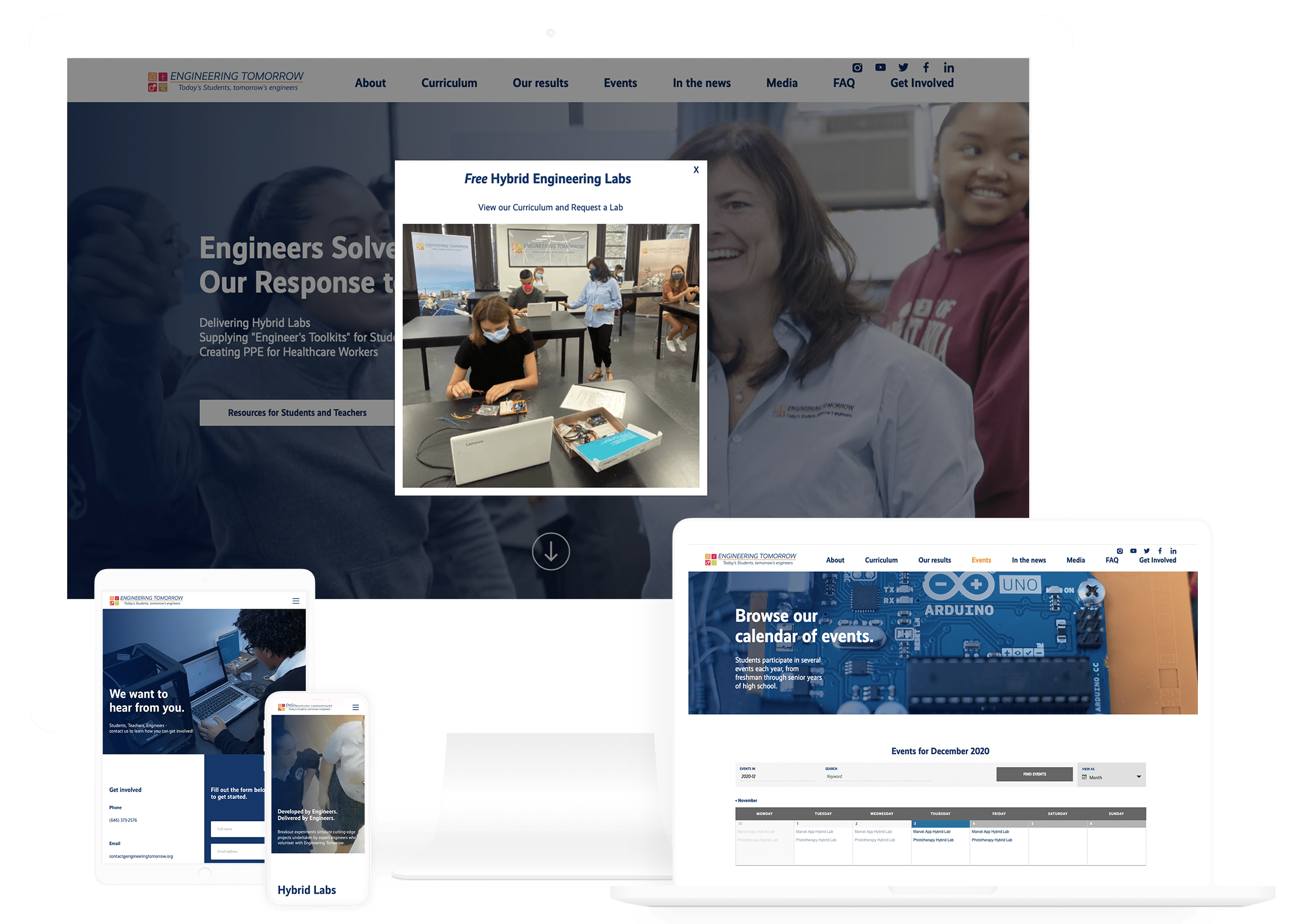 Outcomes
Hosted 25+ curriculum documents on the site in an organized manner
Integrated various video assets for lifestyle feel
Created easy-to-find "Get Involved" calls to action
The Impact
Engineering Tomorrow is inspiring rising engineers for generations to come. With a refreshingly modern site, the organization grew its digital footprint and credibility, as well as its program participation. The group continues to grow its following and host successful, informative events regularly.