Challenge
Lanco Adhesives approached us with a unique challenge: to revamp their website, reinvigorate their brand, and boost organic search growth. They desired a user-friendly redesign that showcased their remarkable work and improved search engine visibility.
Our transformative journey began with a clear understanding of Lanco Adhesives' goals. Leveraging our expertise in web design and digital marketing, we crafted a new user-friendly website that seamlessly aligned with their brand identity. Through strategic SEO implementation, we propelled their organic rankings on Google, leading to increased search engine visibility and a surge in organic lead generation.
Services
Creative
SEO
Web development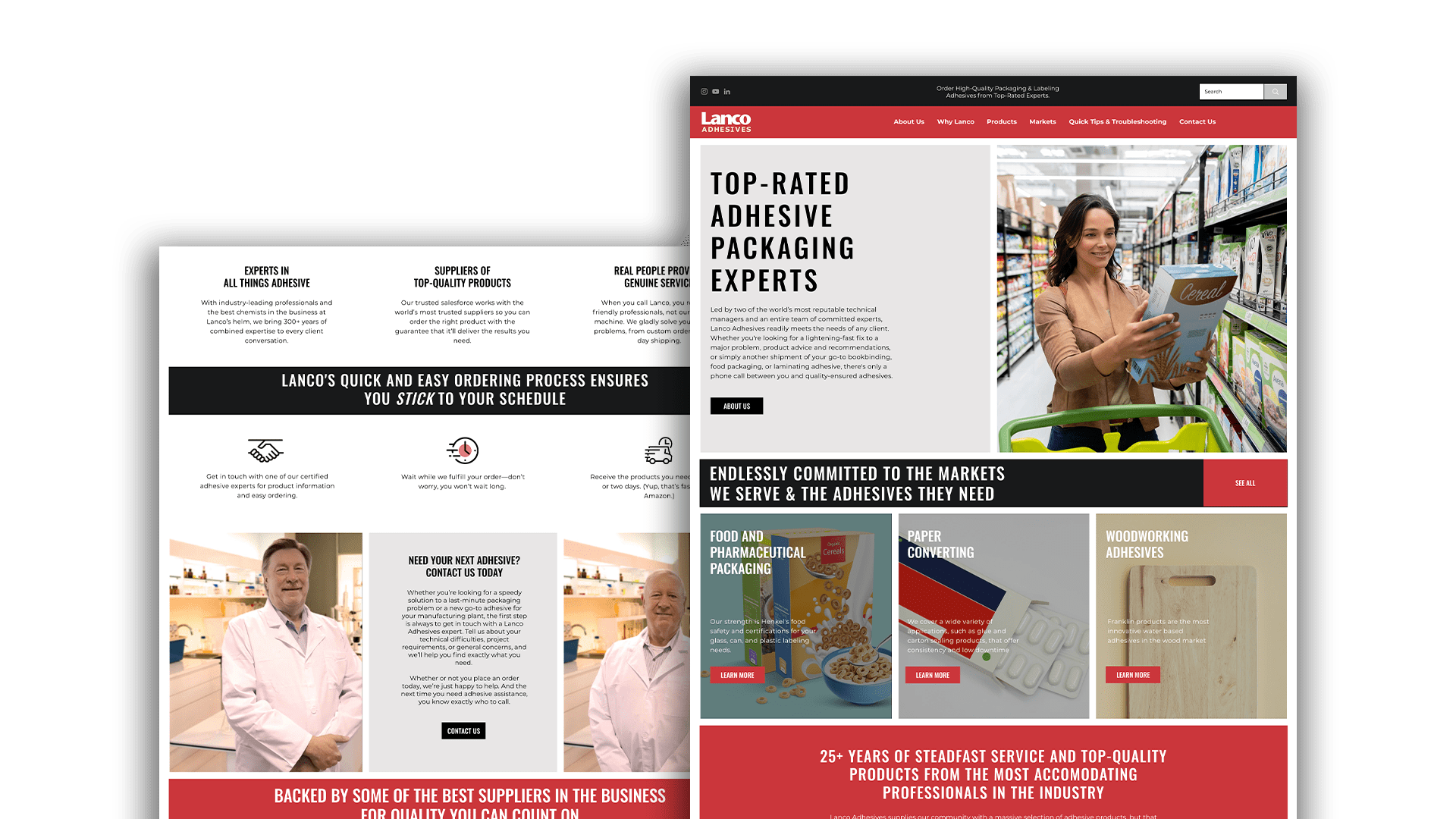 Solution
Creative & Web Development
Our team's primary goal was to develop a user-friendly website for Lanco Adhesives that not only improved search engine optimization (SEO) but also enhanced the overall user experience. By strategically designing the website to optimize product visibility and market representation, we successfully elevated Lanco Adhesives' online brand presence, resulting in increased sales. This transformation effectively showcased their century-long legacy of excellence in business.
SEO
Our comprehensive SEO strategy for Lanco Adhesives drove organic traffic and generated leads. We optimized visibility by strategically incorporating relevant keywords into meta tags, headings, and content. With technical SEO improvements, faster loading speed, and mobile responsiveness, we built a strong foundation for long-term success. By creating valuable content, we positioned Lanco Adhesives as an industry authority and attracted organic traffic, social shares, and inbound links. Through targeted local SEO tactics, we effectively reached the local market and drove valuable traffic to their website.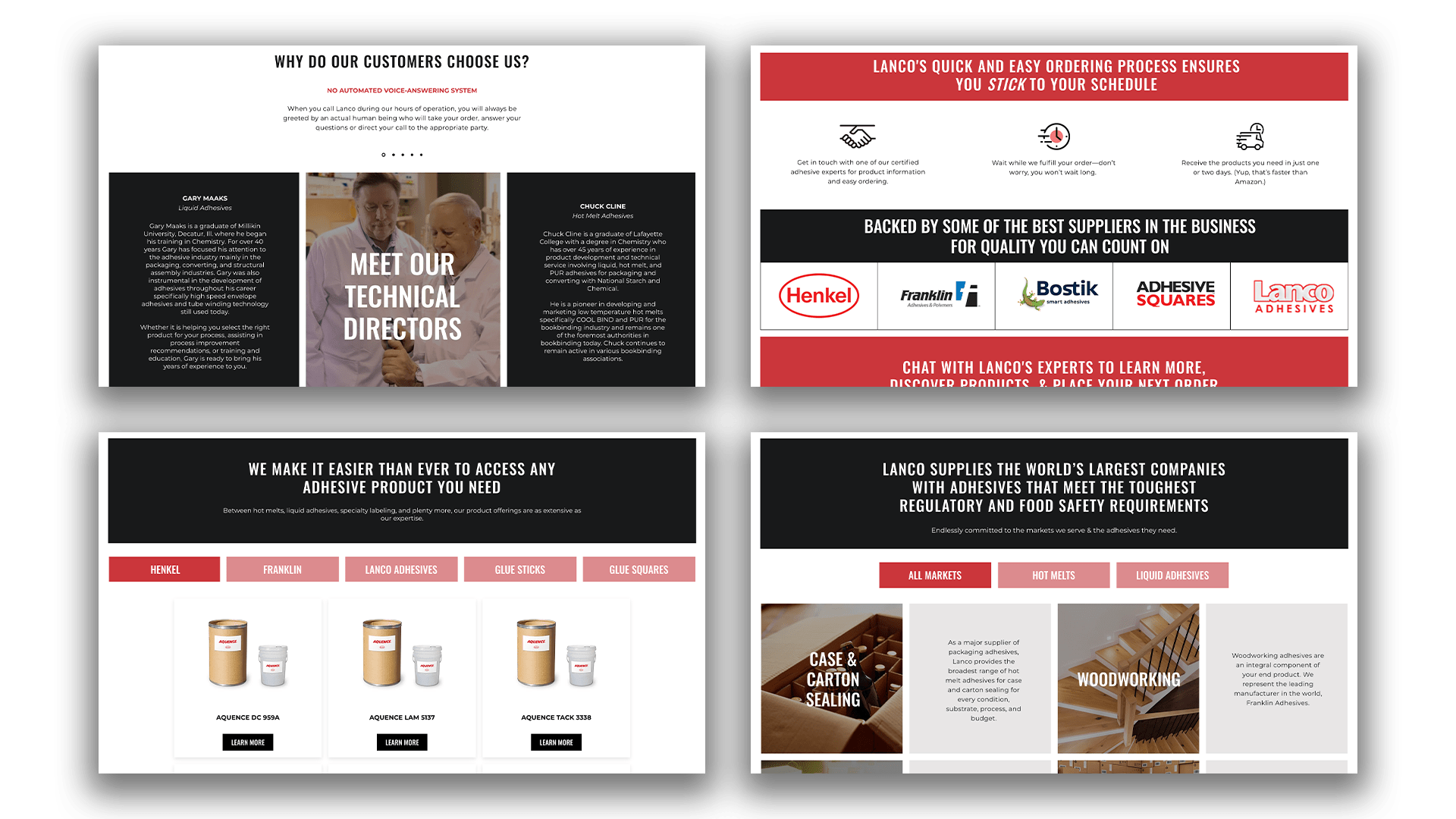 Outcomes
The Lanco Adhesives case study exemplifies the transformative power of digital solutions. By combining web design, digital marketing, and SEO expertise, we empowered their brand, optimized their online visibility, and catalyzed business growth. Lanco Adhesives emerged from this collaboration with a vibrant online presence that accurately represents their remarkable work, setting them apart in a competitive market.
Website users soared 154% YoY
Organic leads increased by 76% YoY
On-site engagement rose by 23% YoY
The Impact
The impact of our redesign was profound. Lanco Adhesives witnessed a significant rise in search engine visibility and experienced a surge in highly targeted visitors. The enhanced user experience and captivating design built trust and credibility, reinforcing their industry reputation. This digital transformation resulted in tangible business growth, driving sales and expanding their customer base.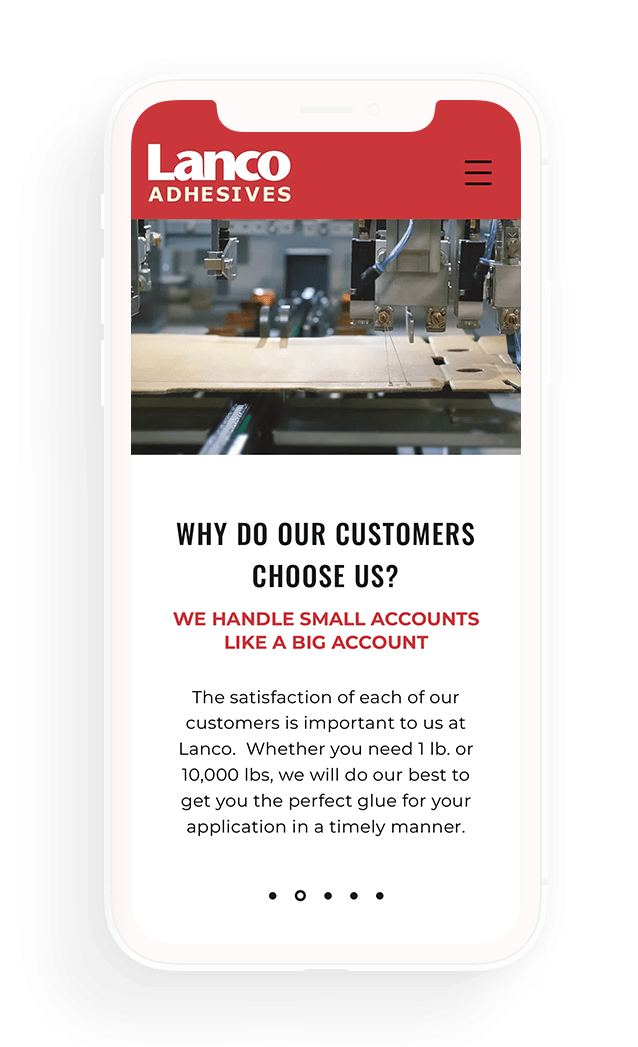 "When our large German supplier called our little company in for a meeting to ask "how we did it" regarding our digital marketing we knew we had something. The answer was that we've been working with Semgeeks and they did an excellent job translating our strengths—service and expertise in adhesives, to digital. They continue to do great work."