The world changed drastically in 2020. The global pandemic led businesses to adapt quickly to a new scenario, where remote working became the norm. Data centers, servers, cloud systems and devices had to play a vital role to support these remote workers, in order to keep businesses operational. Needless to say, therefore, that cybersecurity is now a major concern for organizations.
Neglecting security could have serious implications in terms of reputation, business continuity and legal trouble. So, it isn't surprising that cybersecurity spending trends will change across industries. In a McKinsey survey, 70% of CISOs and security buyers plan to increase their cybersecurity budget in 2021. 
Cybersecurity businesses will now have to re-think their strategies to cater to shifting customer needs. This not only concerns product offerings, but an effective re-branding strategy as well. Here's why.
1. The Need to Stay Current
A total overhaul of the brand is no small feat; but a critical one in today's changing security landscape. For starters, evolution is inevitable for every forward-looking business. Even as semgeeks' lead designer, Nicole Krosnowski, gives effective tips to rebrand in this video, she talks about how it is important to refresh the brand by changing a few small elements every few years to stay relevant.
For instance, tweaks and changes in the visual identity of a brand need to be updated according to the latest trends and consumer choices. This could be a change in font or color, or even revamping the logo.
In 2019, Kaspersky Lab, not only dropped the "Lab" from its name in its re-branding efforts, but also changed its visual identity. The company changed its logo font and shape from the previous Greek alphabet to a more modern design of geometric and mathematically exact letter forms. The new logo, according to them, had a more futuristic appeal and suited their current communication strategy.

Image Source: https://www.kaspersky.co.in/blog/kaspersky-rebranding-in-details/16185/
2. Inspiring Trust and Confidence Among New Audiences
We earlier talked about how technology has become important in both offices and personal lives, due to the pandemic. Remote working is just one aspect of this shift. The use of devices like laptops and smartphones surged significantly during the pandemic, since this is what people resorted to for everything, from online grocery shopping to attending video conferencing-based business meetings. About 79% of Gen Z internet users globally were using their devices more as a result of the pandemic, making them easy prey for cyber criminals.
Building trust and showcasing expertise to this generation is important, if you want to attract new customers. This can't be done just through manuals full of jargon and product explainer videos only.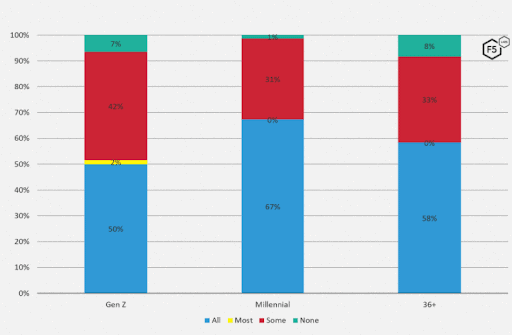 Image Source: https://www.f5.com/labs/articles/threat-intelligence/are-gen-z-ers-more-security-savvy-online-than-millennials- 
So, your branding efforts should be able to effectively communicate your expertise to all segment of users and convince them. Sunbird DCIM fully rebranded their company and website to improve brand recognition across all digital channels. From brand colors to SEO campaigns, the brand developed an omni-channel marketing strategy, which could reach a diverse pool of potential clients. As a result, they saw a 119% increase in their organic traffic and forged relationships with new clients.
3. To Tap into New Talent
In a research by ESG and ISSA, nearly half of the respondents said that there is a lack of serious talent in the cybersecurity industry. Branding is vital to how a company, or rather a sector, appeals to new talent. The industry is said to be a male-dominated one, which is a negative brand image. By building a brand image that focuses on diversity and inclusivity in the workplace, your company can attract the top talent. 
Intel Security Group rebranded itself as McAfee in 2018 and included the word "inclusive," along with candor and transparency in its company culture. The company wanted to project a culture where employees from all walks of life are not only celebrated but rewarded for speaking candidly on vital issues.
Staying Ahead of the Competition
The fight to stay several steps ahead of the next cyberattack is a constant in the industry. It is important for cybersecurity businesses to get their branding right because the competition is fierce. Globally, start-ups with pioneering technology are mushrooming, with the potential to change the landscape.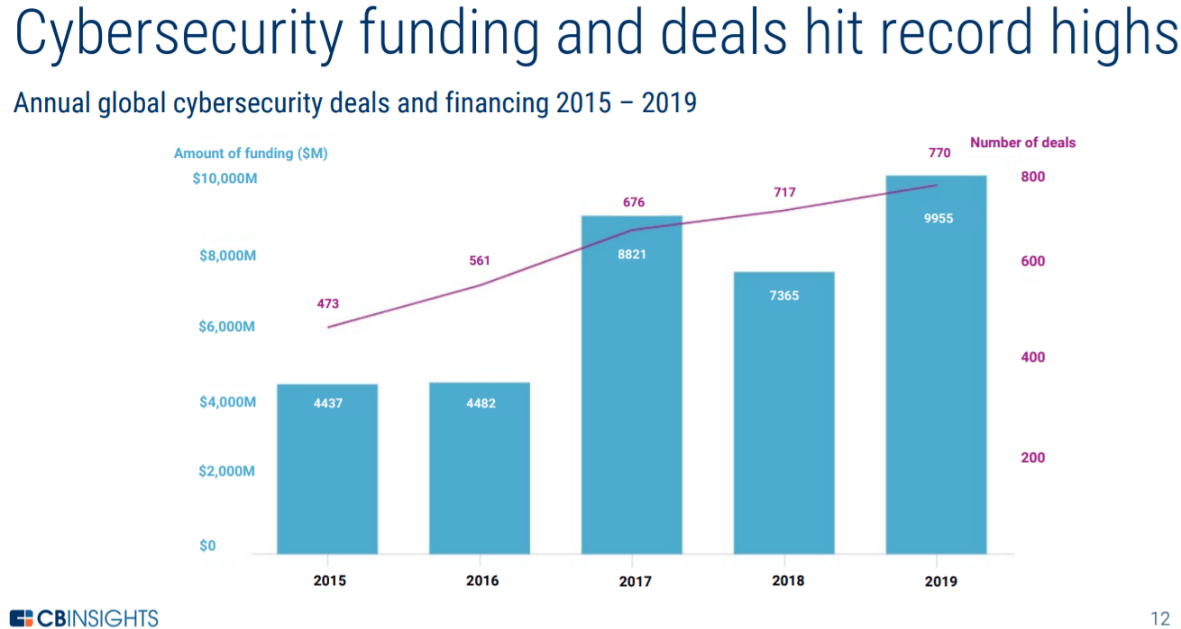 Image Source: CB Insights
Here are some tips to get started:
Focus on differentiation and rely on visual storytelling to do so.

Re-think your core mission, vision, values and positioning. Whatever the reasons for re-branding, you need to ensure new depth to resonate with the audience.

Share your brand values across online media. Utilize advertising, content marketing and social media campaigns.

Highlight what's new and what's better.

Ask people; customers, employees, vendors, business partners, funding VCs and everybody else, about what they like and don't like about your business. Some key points to discuss:
Is it too hard to do business with your company?

Where do you stand in terms of brand differentiation?

Do you need a complete brand rebrand?

Do you provide good price value?
Cyber security companies have for years played a huge role in businesses protecting their brand integrity as well as bottom lines. It's time to up their games too.