Historically, Software as a Service (SaaS) sales cycles have varied significantly in length. The average sales cycle could range from a few weeks to several months, depending on the deals' annual contract value (ACV), the product's innate complexity, the market it's in, the difficulty of technology adoption, and the customers themselves.  
Knowing this, what strategies are marketing and sales teams applying to mitigate many of the innate difficulties of selling a SaaS, and thus lower their customer acquisition costs?  
They're leveraging the power of inbound marketing. Here's why. 
What Is SaaS Inbound Marketing? 
Inbound marketing incorporates a multi-pronged marketing approach to provide meaningful and credible information to a potential SaaS buyer at every touchpoint and stage of the buyer's journey. 
According to Rebecca Kowalewics, VP of Digital at Clearbridge Branding Agency, it's a technique that, "Draws customers to a product through a balance of content marketing, social media marketing, search engine optimization, and branding." And, for SaaS providers, inbound marketing enables them to:
Gain prospects trust

Position them as an authority 

Explain the product and its potential benefits

Generate leads 

Drive organic traffic

Retarget existing customers   
In short, inbound marketing answers key questions that both would-be and current buyers  might have. It's an opportunity to tell them how your product provides the optimal solution to an existing problem, and what makes it different from competing SaaS products. 
Additionally, B2B SaaS buyers are different from a typical B2C consumer. They typically have already conducted research prior to approaching a potential SaaS partner. Here, SaaS inbound marketing creates an opportunity to download and demo a free trial of the product for themselves. In fact, Gartner's New B2B Buying Journey & its Implication for Sales report states that only 17% of the buyer's time is spent in meeting the service/product provider.
That means it's largely up to your inbound marketing to sell the product.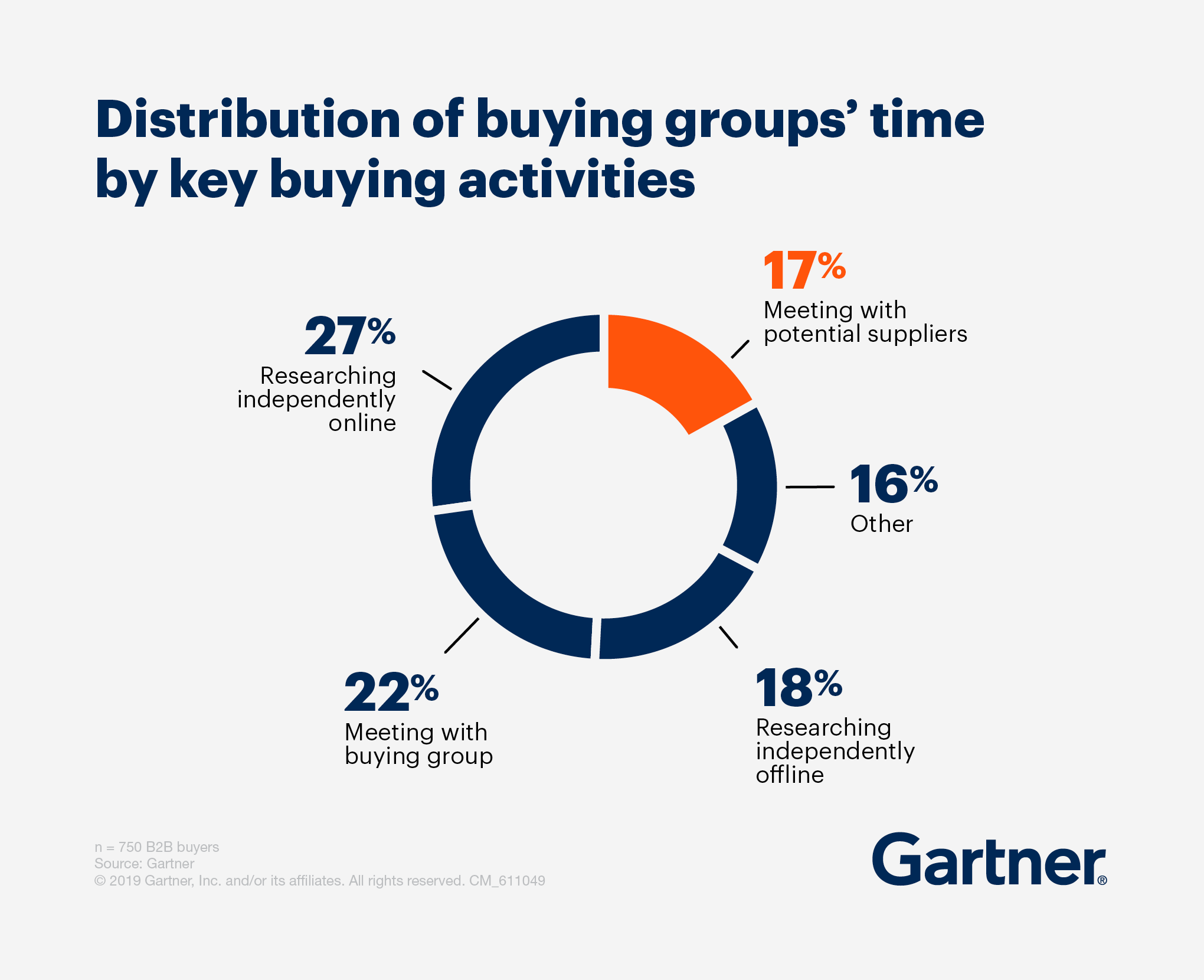 The SaaS Inbound Marketing Funnel
To be able to reach out to the buyer at every stage of their buying journey, you first need to focus on your marketing funnel. In the SaaS sector, this funnel usually consists of four major stages: 
Awareness

– The buyer initially becomes aware of a specific problem that needs to be addressed or of an SaaS offering that addresses pre-existing problems.

Consideration

– The buyer then does their homework to check for the various options available to them to solve their problem.

Buying Decision

– Once satisfied with their research, having shortlisted and further reviewed the SaaS offering, the final purchase decision is made.

Retention

– Making the initial sale is only half of the journey. Unlike a normal one-off product, SaaS customers need to be retained year after year. The longer the average customer lifetime value, the better. To do this, they must stay engaged and retargeted via continuous inbound marketing. 
Elements of SaaS Inbound Marketing
Even before COVID, a significant percentage of a customer's research was already being conducted online. Research shows that more than 62% of B2B buyers base their purchase decisions solely on online research, while 60% don't even interact in-person with sales reps at any stage. 
While free trials are a great tool that can and should be leveraged, for an SaaS inbound marketing campaign, the strategy can't depend solely on demos. Therefore, going into Q1 of 2022, here are three sub-strategies you should focus on:  
A robust content strategy

– It's impossible to overemphasize the need for targeted, meaningful content purposefully crafted for each stage of the customer's buying journey.  A robust content strategy should include:

Blog posts

Email marketing

Educational eBooks and whitepapers

Case studies

Explainer videos

Social media posts and campaigns 
For instance, simply having a video on your landing page has the potential to increase your conversion rate by a whopping 80%.
Search Engine Optimization

– The only way to be easily discoverable online is to optimize your website and all your digital communication to the popular search engines. By focusing on both on-page and off-page SEO, you can drive organic traffic and reach the right audience. 

PPC campaigns

– While content and SEO are viable long-term strategies, pay-per-click (PPC) marketing is the quickest route to instantly reach potential customers and retarget existing ones. By leveraging the power of analytics, you can also continuously optimize paid ad campaigns to keep increasing ROI. 
Semgeeks—Your Inbound Marketing Partners 
In a digital world, where a significant portion of the buyer's journey is conducted online with little to no interaction with the SaaS provider—especially in the early stages of the sales lifecycle—it becomes essential for companies to meet would-be and existing customers where they are. 
Here, a strategic SaaS inbound marketing campaign could be the differentiating factor that closes the deal. 
Don't know where to begin?  
That's why you're here. At Semgeeks, our team of marketing experts knows what it takes to create an inbound marketing campaign that converts. 
So, are you ready to drive new customers through your digital doors? Let's talk.  
Sources: 
Fobes. What Is Inbound Marketing? https://www.forbes.com/sites/forbesagencycouncil/2020/02/10/what-is-inbound-marketing/?sh=e51b1592a9e6
Gartner. New B2B Buying Journey & its Implication for Sales. https://www.gartner.com/en/sales/insights/b2b-buying-journey
Wordstream. 6 Ways to Use Video to Increase Conversion Rates. https://www.wordstream.com/blog/ws/2016/03/30/video-for-conversion-rate-optimization